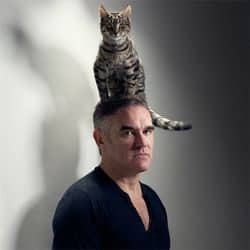 According to a new report, it may not be so fun to work for Morrissey (or be his biggest fan). The British superstar's bodyguard, Bradley Steyn, has filed a lawsuit against him, claiming that he was tasked not only with keeping Morrissey safe but also with hurting a fan. Steyn claims he was fired when he refused.
TMZ reports:
According to Steyn … Morrissey hated the guy who ran one of his fan websites — Morrissey-solo.com — which he felt invaded his personal life. Steyn claims in the suit Morrissey asked if there was a way the fan "could get hurt."
Steyn claims right in front of Morrissey … the tour manager asked if the fan "could be gotten rid of." Then they discussed how to get the fan's home address.