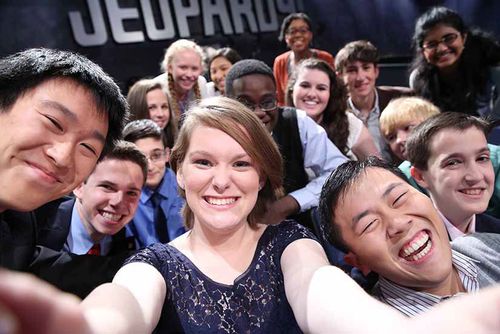 Almost as if it had been plucked directly from the somewhat popular @GayJeopardy Twitter account, a not so subtle nod to gay slang won one contestant $800 in a late round of Jeopardy! last week. "One term for talking trash about someone is 'throwing' this," Alex Trebek hinted. "Like a big elm tree might do."
'What is shade?', the answer, was obvious to contestant Kat Deabill, a 16 year-old high school student from New Boston, New Hampshire. The queerer corners of the internet hailed Jeopardy!'s incorporation of the term as another sign that gay subcultures a being increasingly accepted by the mainstream, but others felt as if the move deserved a bit of questioning.
Rafi D'Angelo, a contributor to Slate's Outward blog, listed shade among "basic" and "kiki" as yet another term in danger of imminent appropriation, which prompted Slate's J. Bryan Lowder to question "Is Gay Culture Over?":
Another way to look at shade's appearance on Jeopardy! is as a moment of critical elevation. Yes, the category in which it appeared was goofily titled "It's Slang-tastic," but as shade aficionados will know, the word—as a communicative practice, a mode of comportment, a means of negotiating power relationships, even a way of being—is far more than just a slang term.
Lowder posits an interesting situation in which Jeopardy! viewers unfamiliar with shade further investigate the term and, theoretically, glean a deeper understanding and appreciation for queer culture in the process.
Deabill, who has been inundated with internet attention since her Jeopardy! appearance, took to Reddit earlier today to share her understanding of the complicated conversations surrounding the ownership of terms like shade.
"I really like that it's getting visibility because the LGBT POC community has been so ignored throughout history, but I'm afraid of misappropriation of the term." Deabill responded in the AMA. "I don't feel like I can comment more on that, as I don't identify as a POC (since I'm about as white as Macklemore in the Arctic), so I'm going to defer to the majority opinion of those to whom the term belongs."
When commenters expressed their surprise at Deabill's nuanced response, she stressed the necessity of being thoughtful about the origins of cultural symbols:
"It's something that's always been important to me. The one thing that bothers me more than anything is when people try to downplay others' struggles by laughing at or misusing a term that was created by that group to cope with and rise above their oppression."
Watch the Jeopardy! clip that sparked this conversation AFTER THE JUMP…