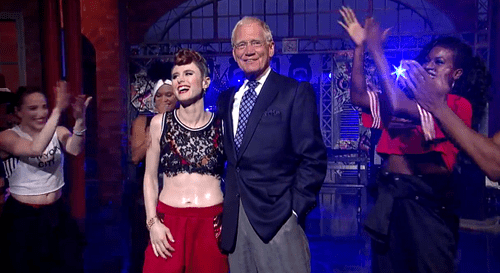 OXD favorite Kiesza appeared on Letterman Thursday, bringing some no-joke choreography to the Late Show stage.
The Canadian pop singer is best known for her international hit "Hideaway," whose single-take music video has gone viral.
On Letterman, Kiesza brought the video's choreography alive onstage. The often-prickly Letterman seemed genuinely impressed, flashing a big grin when he came onstage at the song's end.
If you're into old school diva anthems, "Hideaway" will probably float your boat — think a 2014 update on 90s house classic "Show Me Love" by Robin S.
Check out video of Kiesza on letterman AFTER THE JUMP…