Obama gets a fist pump as he pays for his lunch during a surprise visit to Franklin Barbecue in Texas #obamaaustin pic.twitter.com/sPUAMIAm2S

— Doug Mills (@dougmillsnyt) July 10, 2014
By night, Daniel Rugg Webb is an aspiring comedian based out of Austin, Texas. By day, he's a cashier at Franklin Barbecue: the same Franklin Barbecue President Obama dropped by last Thursday as a part of his brief tour through Texas.
"If Rick Perry would've walked in, I would have lost my job. Webb told the Austin Chronicle. "I would've taken that old queen to town."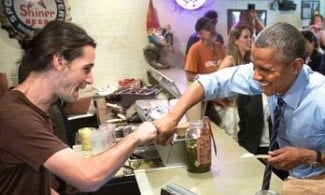 Instead, Webb met face to face with the President, and, ever the performer, still managed to find a choice set of words, as he recounted to Buzzfeed:
"Equal rights for gay people!" he exclaimed.

Obama reacted without missing a beat. "Are you gay?"

Taken aback by the directness of the question, he said, Webb responded, "Only when I'm having sex!"

The president laughed, then, realizing there was a group of children near the two, said, "Not in front of the kids!"
Webb, more than mere taking the opportunity to banter with the Commander-in-Chief, saw the exchange as a chance to take a pointed stand against current governor Rick Perry.
"We are an anti-gay state. We are a state with a whole bunch of hungry children and sick old people, and [Rick Perry is] grandstanding on things that will get him a better election," Webb explained. "I would like to see Rick Perry negatively influenced by any kind of attention. Even Obama laughing at something as, hopefully, acceptable as sexuality can show the difference."
Watch a clip of Webb's standup at the Austin Encyclopedia Show AFTER THE JUMP…