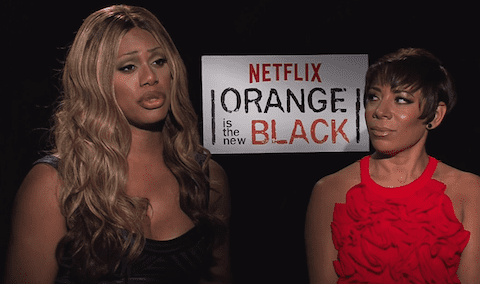 Laverne Cox's cover on the June edition of TIME Magazine solidified the actress-cum-activist's position as one of the country's leading voices in the fight for trans rights. While TIME's exposure strengthened Cox's ability to amplify her message, the increased attention hasn't been entirely positive for the Orange Is The New Black star.
"I've felt it since the cover of TIME Magazine, like all of a sudden like my Twitter feed and my Instagram there's all this negativity." She told BET. "I was getting Google Alerts about me [somehow being in league] with Satan."
Fame monster notwithstanding, Cox's star is on the rise. In addition to being nominated for an outstanding guest actress Emmy this morning, she's producing Free CeCe!, a documentary chronicling the life of Cece McDonald, a transwoman sentenced to 41 months in prison after surviving her own bashing.
Watch Laverne's full BET interview AFTER THE JUMP…