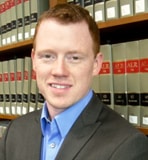 KSFY reports that late last Thursday night, Minneapolis-based Lawyer Joshua Newville (pictured) filed a request with the state of South Dakota to resolve the state's gay marriage ban in a different way. In lieu of the current lawsuit going to trial, Newville argues that the judge should bypass the trial and declare the marriage ban unconstitutional.
Newville emphasizes both the importance of fast action for families whose fate hangs in the balance, and legal precedence — he points out that: "Of the 22 or 23 cases that have been decided in the last year, the vast majority of them have been decided this way [by a judge]."
The court has 21 days to reply to Newville's request.
For video of Newville's comments, as well as those of South Dakotans, check out the video via KSFY embedded AFTER THE JUMP…