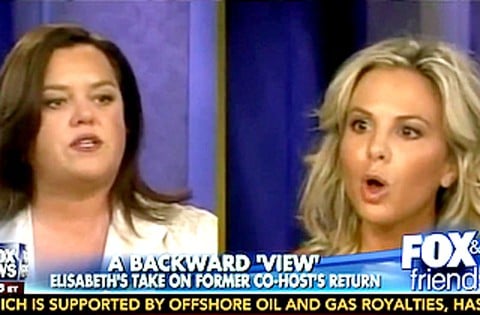 Conservative talking head Elisabeth Hasselbeck recently called into Fox News chat show Fox & Friends to discuss the leftover beef she has with her former The View co-host and frenemy Rosie O'Donnell.
Hasselbeck and O'Donnell used to regularly butt heads, and now that O'Donnell has returned to the show, Hasselbeck has some words:
"Talk about not securing the border! Here comes into The View the very woman who spit in the face of our military, spit in the face of her own network and really in the face of a person who stood by her and had civilized debate for the time that she was there, coming back with a bunch of control ready to regain a seat at The View Table. Not surprising…"
Hasselbeck claims that O'Donnell took credit for producing a recent episode of The View that bid adieu to beloved long-time co-hostess Barbara Walters, and that O'Donnell actually intended the episode as her own return to the popular daytime talk show.
Hasselbeck continued by saying that that whoever else joins the show as a roundtable regular will likely be chosen by O'Donnell herself. Rumor is that the show is eyeing Abby Huntsman, Meghan McCain, and Margaret Hoover as possible conservative co-hosts.
You may recall that O'Donnell left the view amid failed contract negotiations back in 2007 whereas Hasselbeck left The View in 2013 to join the conservative chatterboxes at Fox and Friends.
Joy Behar, another former co-hostess of The View recently denounced Hasselbeck's comments about O'Donnell as "hate-filled."
Hear Hasselbeck's beef and Behar's response AFTER THE JUMP…