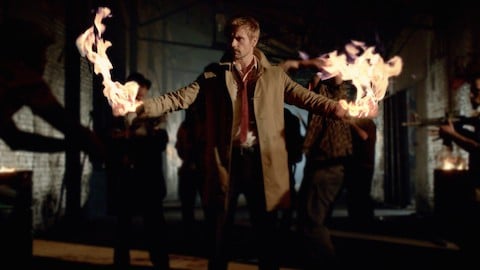 2005's Constantine, directed by Francis Lewis, was essentially an excuse to watch Keanu Reeves smoulder on screen and Tilda Swinton rock a pair of post-modern angel wings. Constantine, which was based on Vertigo Comics's Hellblazer series, was met with mixed reviews from critics and fans alike. The movie bore little resemblance to the source material other its characters' names. John Constantine was no longer blonde, English, charming, or apparently bisexual the way he'd been on the pages of Hellblazer.
Late last year Deadline reported that NBC had greenlit a Constantine reboot for its fall lineup. As casting announcements were made and promotional footage released, fans of the comics were left wondering if this incarnation of the supernatural antihero would be truer to its roots.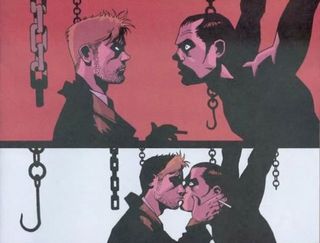 Daniel Cerone, executive producer for NBC's Constantine, set the record straight this past Sunday at the Television Critics Association's press junket. One of the more interesting things about the Hellblazer series was that its characters aged in real time over the book's 30 year run. Bisexual as Constantine may have been, the bulk of his love interests were women.
"[T]here might have been one or two issues where he's seen getting out of bed with a man." Cerone explained, musing about future developments for the character. "So [maybe] 20 years from now? But there are no immediate plans."
Unlike his love of cigarettes, Constantine's sexuality was never exactly an ancillary aspect of his character. But it wasn't something that the character himself, and his writers by extension, ever outright dismissed or retconned. Charlie Jane Anders of io9 agrees that the NBC's decision to tone down Constantine's smoking is a little more egregious, but felt as if the network definitely missed an opportunity:
I didn't mean to skate over this issue quite so glibly — blame deadlines and pre-Comic-Con phone calls. I do think erasing queer people from pop culture is a shitty thing to do, and we desperately need more pop culture that represents the whole range of human sexuality. And it really wouldn't have cost much for them to include an aside about ex-boyfriends along with ex-girlfriends. At the same time, to me the most important aspect of John Constantine is not who he fucks, but who he fucks over.  
A Pew study published last June reported that bisexually identified individuals composed the largest percentage of their survey sample that included gay, bisexual, lesbian, and transgendered people. Conversely, on average lesbians and gays reported being far more open with friends and family about their sexual orientation than their bisexual counterparts.
One of the major challenges to combating what many queer people have identified as "bi-invisibility," is finding opportunities to introduce bisexuals into the popular conscious. Calls to action for compulsory comings out for bisexuals are neither moral nor realistic, but programming like Constantine has the potential to push that conversation in the right direction.
Check out the promo for the new Constantine AFTER THE JUMP…