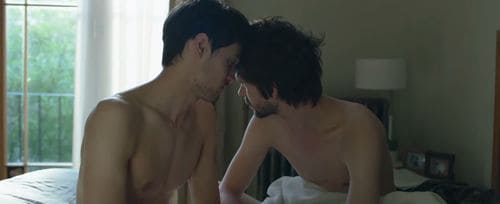 BY JOSEPH EHRMAN-DUPRE
You'd be hard pressed to believe that Lilting, a measured and quietly emotional film which screened this week at NYC's NewFest, is the work of a first time director. But Hong Khaou has crafted an intimate portrait of loss which questions tightly bound notions of familial and cultural divides. 
The story follows Junn (Pei-pei Cheng), an elderly woman whose only son, Kai (Andrew Leung), has placed her in a posh assisted living home. There is tension around this decision, located primarily in the jealousy Junn feels for Kai's friend Richard (Ben Whishaw), who she believes has taken her place in Kai's home. Little does she know that Richard is actually Kai's live-in boyfriend and, if only they could be honest with each other, everyone may be able to live in peace. That aspiration is dashed when Kai meets an untimely death at the beginning of the film. Richard, burdened with immeasurable loneliness, reaches out to Junn for the first time, using a translator named Vann (Naomi Christie) to speak with her and forge unsteady ties.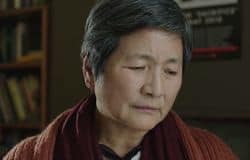 The film is conspicuous in its preoccupation with speech. The narrative plays out as a series of inventively written conversations bracketed by chillingly beautiful shots of the colder months passing by outside (the movie won the World Cinematography award at Sundance). Flashbacks and memories serve as consistent reminders of the influence Kai had on both characters, and the depth of the loss they have suffered. Khaou is clever here, too, repeating scenes multiple times as they garner new layers, or editing together the past and present. In a particularly emotional scene, Richard lies in bed with Kai, touching him, only to begin crying when he realizes the impossibility of such contact in the present; the doorbell rings and Richard, still teary-eyed, rushes downstairs to find Junn and Vann at he and Kai's home, a kind of intimate intrusion. 
Through their conversations, Richard and Junn come to recognize pieces of Kai that they had not known. They mutually reinforce the best and worst memories, etching an indelible, shared portrait of the man they both loved. The tension is palpable, particularly around Kai and Richard's romantic relationship and the limits of what Kai would have wanted his mother to know. Where so many other movies rely on subtitles, Lilting strands us alongside Richard and Junn in this uncomfortable space of unknowing, relying on Vann's translations and creating tension as the conversations become more heated. The actors inhabit their roles beautifully, with Whishaw giving a prickly, tearful performance and Pei-Pei one of restraint and palpable depression. Their personalities, as much as their languages and ages, clash and lend the film an even more realistic feel. 
Ultimately, divides are breached, language is tested, and neither character comes out miraculously healed. There is incurable sadness in Kai's disappearance from their lives. But, Lilting leaves us with the notion that memories live on in the shuffle toward renewed normalcy, and the best we can do is seek to understand the varied, beautiful facets of those we have lost. 
Check out the trailer for the film, AFTER THE JUMP…