Bobi Wine, a homophobic rapper from Uganda, has been banned from two venues in England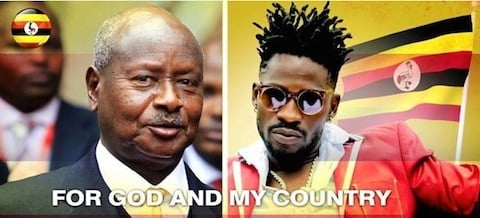 Bobi Wine, a homophobic rapper from Uganda, has been banned from two venues in England, reports The Birmingham Mail.
London's Troxy Theatre and Birmingham's Drum Theatre said they will not allow performances from anyone who promotes discrimination.
Wine, whose real name is Robert Kyagulanyi, has in the past urged fans to "get behind me and fight the Batty Man."  In his Ugandan reality TV show, Wine was seen on camera writing the words "burn all the batty man."
Charles Small, Drum Theatre's CEO, said:
"The Drum will not tolerate or condone any homophobic sentiments and lyrics at any time. And if an artist or individual was found to be in breach of our rules while on stage or in the building the show or performance would be terminated and persons ejected from the building."
Taking to Facebook yesterday to defend his views and Uganda's harsh anti-gay laws, using an image of himself with Ugandan President Yoweri Museveni with the caption "FOR GOD AND MY COUNTRY," Wine wrote:
It's a misinterpretation to say that Uganda wants to kill homosexuals because the biggest sanction for the offenders (aggravated homosexuality with a minor where the offender is HIV positive) is life imprisonment and not death.
The intension [sic] of the Act is to stop promotion and exhibition of homosexual practices. In fact, degenerate passions can be regulated by discipline and the benefit of the law is to create standard behaviour for us Ugandans.
Like wise therefore, I am personally not out to threaten the life of any individual based on their sexual Orientation, I just DO NOT agree with them.
This is my opinion and happens to be that of 99% ugandans/Africans basing on our culture,religion and constitution.
Small said that he was not aware of Wine's homophobic views when the event was booked and is awaiting a further guarantee that the show – a concert staged by Ugandan drama and music troupe The Ebonies –  will be free of anti-gay content.