A bakery in Northern Ireland could face legal action from The Equality Commission for Northern Ireland for refusing to take an order for a cake with the slogan "support gay marriage."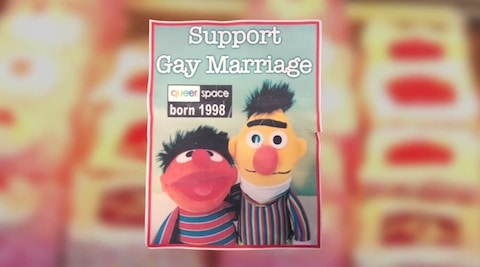 A bakery in Northern Ireland could face legal action from The Equality Commission for Northern Ireland for refusing to take an order for a cake with the slogan "support gay marriage."
Based in Newtownabbey, Ashers was named after a verse from the Bible, which refers to "Bread from Asher," reports RTE.
LGBT activist Gareth Lee asked for the cake, ordered to help mark International Day Against Homophobia and Transphobia, to be decorated with the slogan "Support Gay Marriage," a logo for QueerSpace, and an image of Bert and Ernie from Sesame Street.
Speaking to RTE, Ashers general manager Daniel McArthur said:
"I would like the outcome of this to be that any Christians running a business could be allowed to follow their Christian beliefs and principles in the day-to-day running of the business and that they are allowed to make decisions based on that."
The Christian Institute, which is supporting Ashers because "the case proves the need for the law to reasonably accommodate family-run businesses with firmly held beliefs," said:
"When the order came through to the head office, the manager and directors decided to decline the request on conscience grounds, and offered a full refund."
The Equality Commission for Northern Ireland says that refusing to make the cake amounted to discrimination on grounds of sexual orientation and has written to Ashers asking that it remedies the situation within seven days or be taken to court.
Northern Ireland is the only part of the U.K. where same-sex marriage remains illegal.
Last May, The Colorado Civil Rights Commission rejected a Denver-area bakery's appeal of an earlier ruling that bakery owner Jack Phillips "unlawfully discriminated against a gay couple by refusing to sell them a wedding cake."
Watch a video released by Ashers in which they comment on the case, AFTER THE JUMP…