In 1975, David Kopay became the first NFL player, current or former, to come out publicly in the Washington Star. It was a stunning moment for sports, and he later revealed even more–including a one night stand with former Redskin player Jerry Smith–in his memoir, The David Kopay Story. Now, nearly forty years later, Kopay is one of many who are welcoming Michael Sam, the first openly gay player to be drafted into the NFL, with open (but concerned) arms.
The Hollywood Reporter recently wrote about Kopay's experience:
"I was desperate," he says. "I was totally, 'What am I going to do with my life? Can I make a difference?' " He'd hoped his tale…would encourage other pro athletes to come out. But years turned to decades and few had followed suit. Meeting Sam, the gifted defensive end who shattered the last civil rights hurdle in pro sports when he kissed his boyfriend after being drafted by the St. Louis Rams in May, came as more than just a passing thrill. It was the culmination of a life's work.
One need only consider current attitudes toward gays in sports — when a celebratory kiss between men can result in an uproar — to grasp just how shocking Kopay's admission was for the 1970s. And yet somehow his remarkable story has faded over the years. According to columnist Will Leitch, founding editor of Deadspin, that largely is due to Kopay being eons ahead of his time. "I think it was honestly too early," says Leitch. "It was 1975. In four years, Al Pacino would be making Cruising. People were not ready for an NFL player being gay at all."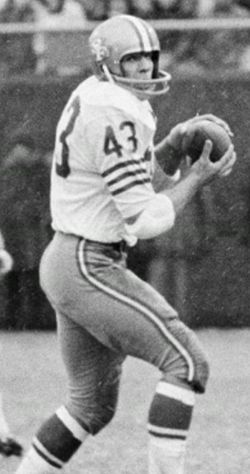 And neither were Kopay's family and friends. Married at the time, he got divorced and was excommunicated by his Catholic mother; she left him with the kind parting words, "I created you and I can kill you." Kopay moved to San Francisco, rubbing shoulders with Harvey Milk and living with Armistead Maupin, then to Los Angeles where he has lived since.
Kopay swims laps daily at nearby Occidental College, regularly hits the Rose Bowl flea market and enjoys attending NFL alumni games and serving as honorary ambassador to the Gay Games. He lives alone, his garage lined with memory boards filled with photos of debauched days spent in New Orleans. Whenever he speaks of past loves, they are invariably of the unrequited kind.
It is understandable then that Sam's decision to kiss his boyfriend after receiving his draft call would dredge up proud but conflicted emotions for Kopay.
"I was a bit unnerved," Kopay admits of watching Sam plant a passionate smooch on boyfriend Vito Cammisano, the pair later smearing cake on each other's faces. "I'm old school, you know? Certainly I felt he had a right to kiss his boyfriend and I was really glad he did. But I was not so happy with the cake in the face. It was a little bit over the top. I just worried about him like, 'Oh, what's the fuss that this is going to cause?'"
Hopefully relatively little, and Kopay seems to admit that he is of a different era. He also took the first, and perhaps bravest step of all.
"I think it was the first brick removed from the wall of homophobia," says Cyd Zeigler, the co-founder of Outsports.com. "When Kopay came out, the gay community was just beginning to find its identity. For a portion that didn't associate with the stereotypical gay identity, Dave's honesty was life-changing. I'm sure it saved lives."
Check out an interview with Kopay, AFTER THE JUMP…