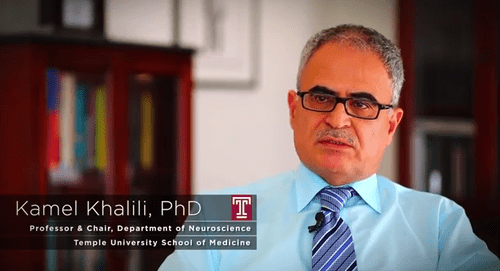 Researchers at Temple University have successfully managed to eliminate HIV from infected human cell cultures according to a recently released study. Most current HIV treatments target the various means through which HIV integrates itself into healthy host cells in order replicate itself. The team at Temple, however, employed a form of advanced gene therapy in order to render HIV-infected cells completely HIV-free. From the team's press release:
When deployed, a combination of a DNA-snipping enzyme called a nuclease and a targeting strand of RNA called a guide RNA (gRNA) hunt down the viral genome and excise the HIV-1 DNA. From there, the cell's gene repair machinery takes over, soldering the loose ends of the genome back together – resulting in virus-free cells.
Treatments capable of removing HIV from infected cells have long since been a goal for those within the HIV/AIDS research community. While antiretrovirals are able to suppress the viral loads in HIV positive people, interruptions in treatment give the virus the chance to proliferate, sometimes with dangerous consequences such as cardiomyopathy, kidney disease, and neurocognitive disorders.
"These problems are often exacerbated by the toxic drugs that must be taken to control the virus," explained Dr. Kamel Khalili. "Since HIV-1 is never cleared by the immune system, removal of the virus is required in order to cure the disease."
This development comes just days after a report published at the 20th International AIDS Conference announced that HIV infection rates in general have dropped here in the U.S. The one population observed to have experienced a rise in infection rates were gay and bisexual men.
Controlled tests with the gene therapy method have proven to be successful, but Khalili says that his team still faces a number of significant challenges before the treatment is ready for patient trials. In order to be completely effective the molecular agents responsible for disabling HIV's replication process would have to be delivered to every cell in an infected individual's body. Moreover, the strain of HIV that the treatment has proved effective against, HIV-1, is prone to mutation, further complicating the therapy's effectiveness outside of controlled environments.
"We are working on a number of strategies so we can take the construct into preclinical studies," Khalili said. "We want to eradicate every single copy of HIV-1 from the patient. That will cure AIDS. I think this technology is the way we can do it."
Watch Temple University's video announcing the research breakthrough AFTER THE JUMP…