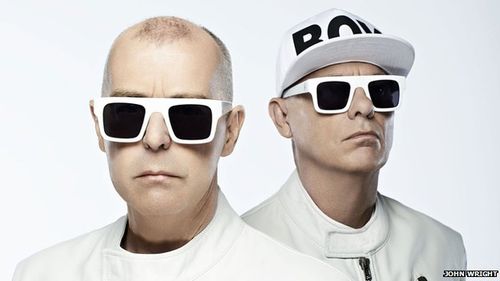 Wednesday evening, Pet Shop Boys will perform their original opera about gay codebreaker Alan Turing. Turing is often pointed to as an overlooked person in history — during WWII he played a key role in the watershed cracking of the Enigma Code. But in 1952 Turing was arrested for homosexuality, and in 1954 he took his own life.
Pet Shop Boys' Neil Tennant explains that the band's interest in Tennant stems from an 80s play in London's West End — Hugh Whitemore's Breaking the Code. The Guardian quotes Tennant:
You really get a feeling of this extraordinary quirky genius when you learn about Turing. [He] made a big impression on people that knew him, because he was such an unusual person … coming from this different era of V-neck sweaters and sports jackets, yet having this incredible vision of the Universal Machine, and going round telling people he was homosexual.
The often-quotable Tennant goes on to describe the political situation in England today regarding gay rights, and he notes that even conservatives like Prime Minister David Cameron are for marriage equality.
It isn't really a party political issue any more. I think what really happened is we've moved, not totally, but as a society, away from toleration to acceptance, and a reasonably happy acceptance actually. All parties are supporting that now…You'd have to ask David Cameron about his motives, because I know what certain people say about it. Nonetheless he's run with this issue.
Pet Shop Boys will premiere their Turing-inspired work, A Man From the Future, this evening (July 23). The performance will feature Chrissie Hynde of The Pretenders. You can find audio and visual streams via BBC here, the show starts at 5:15pm ET.