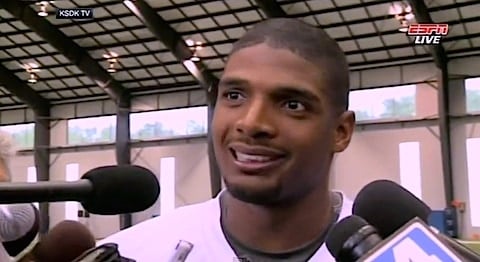 Michael Sam reacted on Tuesday to remarks made by Tony Dungy this week suggesting that he wouldn't have drafted Sam because the Sam's sexual orientation would have been a distraction. Dungy later clarified his remarks and said that Sam should "absolutely" have the opportunity to play in the NFL.
Sam was asked about the remarks by reporters and responded with grace and humility:
Said Sam: "Thank God he wasn't St. Louis Rams' coach. But I have a great respect for Coach Dungy, and like everyone in America, everyone is entitled to their own opinions."
Sam was also asked if he would be surprised "if that pops up from time to time, that somebody disapproves?"
"It is what it is," said Sam. "What you gonna do about it? My focus is on making this team. I'm excited to be back with the guys. Football is fun."
Watch, AFTER THE JUMP…