President Obama plans to sign the promised executive order barring anti-LGBT discrimination by federal contractors on Monday, the Washington Blade reports: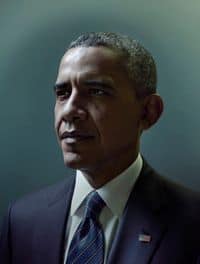 In a conference call with reporters on Friday, senior administration officials, who spoke on condition of anonymity, said Obama plans to amend existing executive orders barring discrimination against workers to include protections on the basis of sexual orientation and gender identity. Obama intends to amend Executive Order 11246, which prohibits federal contractors from discriminating on the basis of race, color, religion, sex, or national origin, to add the categories of sexual orientation and gender identity.
Additionally, Obama plans to amend Executive Order 11478, which prohibits discrimination in the federal civilian workplace — and was already amended by President Clinton to include sexual orientation — to include gender identity.
But the amendments also won't repeal President George W. Bush's amendment to EO 11246, which allows religious-affiliated federal contractors to discriminate on the basis of religion, officials said.
The order is expected to take effect early next year.
The Huffington Post adds:
To the relief of the LGBT community, there is no sweeping religious exemption in the executive order. Obama is simply adding the categories of sexual orientation and gender identity to an existing executive order that protects employees of federal contractors from discrimination based on race, color, religion, sex or national origin. President George W. Bush amended that executive order in 2002 to allow religiously affiliated federal contractors to prioritize hiring employees of their particular religion, however, and Obama is keeping that language intact.
Rea Carey, Executive Director, National Gay and Lesbian Task Force, released a statement reacting to the announcement:
"This decision is good for LGBT people, good for our economy and good for America. It also speaks volumes about President Obama's resolve to end discrimination in all its guises. Millions more LGBT workers and their families will have the employment protections and economic security they need and deserve. Many organizations have worked extremely hard for this day and they all deserve thanks for this successful effort. We appreciate President Obama treating LGBT people equally with other protected groups. Thank you Mr. President for once again showing leadership and standing firm on your commitment to LGBT people and their families."