amfAR, The Foundation for AIDS Research, released a statement to Towleroad reacting to the loss of Dr. Joep Lange, and other victims of the horrific shooting down of the Malaysian Airlines jet over Ukraine:
amfAR is saddened by the tragic and untimely loss of Dr. Joep Lange and many others who were en route to attend the 20th International AIDS Conference in Melbourne, Australia, and were on board the Malaysian Airlines MH17 flight that crashed in Ukraine on Thursday, July 17.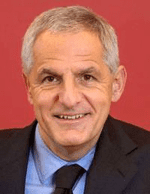 Dr. Lange was a dear friend to amfAR and a skilled and dedicated AIDS researcher. He worked tirelessly to improve access to life-saving drugs in resource-limited countries, and pioneered the development of affordable combination therapies to treat HIV and simple antiretroviral drug treatments to prevent mother-to-child transmission. He was the head of the Department of Global Health at the Academic Medical Center at the University of Amsterdam and co-director of HIV-NAT (HIV Netherlands Australia Thailand Research Collaboration).
Dr. Lange served as president of the International AIDS Society from 2002 to 2004 and was the founder of PharmAccess International, an organization dedicated to providing affordable access to quality healthcare in Africa.
Dr. Lange's passing is a profound loss to the HIV/AIDS and global health community. All of us at amfAR extend our heartfelt condolences to the families, friends and colleagues of Dr. Lange and the other researchers and AIDS activists who lost their lives in the crash of flight MH17.
"Joep Lange was a towering presence in the fight against AIDS since the beginning of the epidemic and a wonderful friend, colleague, and teacher," said amfAR CEO Kevin Robert Frost. "He inspired legions of AIDS researchers, healthcare workers and activists and was an inspiration to me personally. He will be sorely missed."
Media outlets have been reporting that possibly 100 participants in the 20th International AIDS Conference were killed in the incident.