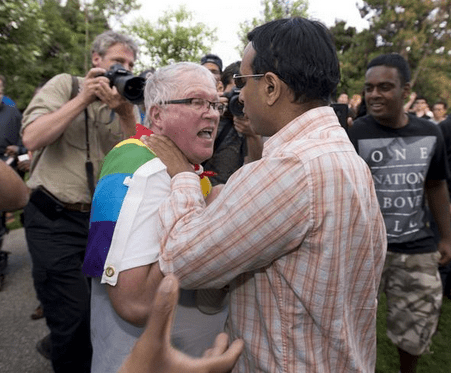 Toronto Mayor Rob Ford and his brother and city councilor Doug have issued apologies for the verbal and physical attack on LGBT protesters by Ford supporters at Friday's barbecue celebration for the confrontational mayor. 
CBC reports: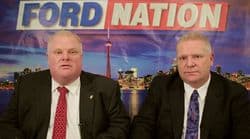 Ford said he didn't personally see the commotion because he was in a tent meeting with his supporters, but he still apologized for what happened.
"It's terrible things like that happen," he said in an interview on Saturday with CP24 while attending the Taste of Toronto food festival. "I apologize and we have to move on."
Ford's brother Doug, who was the first to apologize for the incident, said earlier:  
"I think 99 per cent it went really well. Everyone had a good time," he said. "I think it's just unfortunate what happened. Like I said we apologized to the gentleman. I don't know. It's tough for him to show up I guess. There was a little bit of taunting on both sides. I just wish it didn't happen."
About six demonstrators showed up with signs protesting Ford's homophobia – which popped back in the news two weeks ago when Ford cast the lone dissenting vote for a proposal that would support homeless LGBT youth. 
The Ford brothers, however, remain "offended" that people still think they're homophobic.