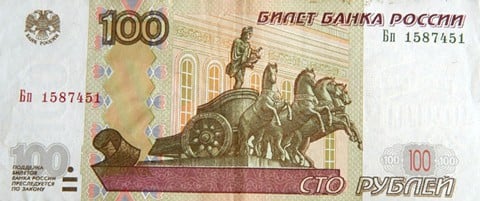 Liberal Democratic Russian Parliament Member Roman Khudyakov recently wrote his country's Central Bank asking them to change the 100 rouble note because, according to him, it "clearly" shows Apollo's genitals. As such, Khudyakov says that the "pornographic" bill runs afoul of the country's ban on exposing minors to "gay propaganda".
Pink News reports:
[Khudyakov said,] "I submitted a parliamentary request and forwarded it directly to the head of the central bank asking for the banknote to be brought into line with the law protecting children and to remove this Apollo."
In the letter, he complained that "intimate parts of the body" were visible on the banknote, which he says should have an "18+" rating under the anti-gay law.
Lawyer Pavel Ivchenkov said: "The 100-ruble bill with a picture of Apollo is essentially a print product and can in fact be considered as 'information of a pornographic nature'.
Pink News goes on to note that "The real statue of the Greek god – at the Bolshoi Theatre in Moscow – was itself censored in 2011, when it was covered up with a fig leaf," and adds that, "Apollo had many gay lovers, including Hyacinthus and Cyparissus."
Khudyakov has not taken into account the possibility that Apollo's microscopic penis on the currency may in fact encourage young women to pursue heterosexuality.