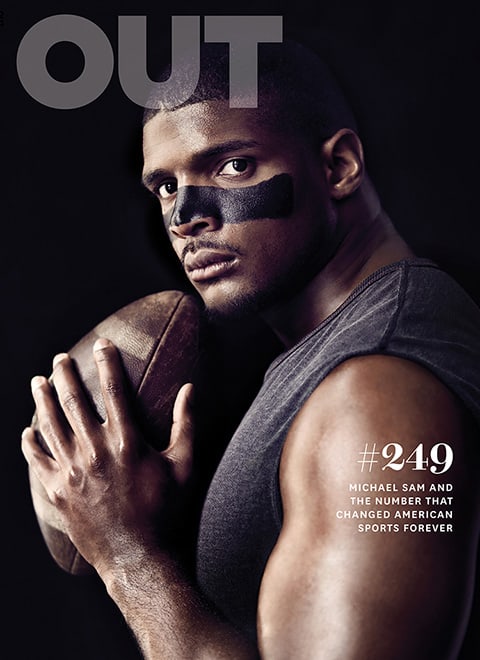 Michael Sam, the first openly gay player to be drafted into the NFL, covers August's issue of OUT Magazine. The interview got off to something of a rocky start because Sam first mistook his interviewer for being straight. However, once Sam discovered he and interviewer Christopher Glazek were both part of the same brotherhood of man, everything changed:
Desperate to turn things around, I started talking about myself and mentioned visiting a boyfriend in upstate New York. Suddenly Sam's head perked up; for the first time, he looked me in the eyes. "Wait—you're gay?" I wasn't sure how this could have been unclear. "Uh, yes," I replied, wonder- ing how he was going to take the news. "Oh!" he blurted, his voice rising five octaves. "And Aaron [Hicklin, Out's editor in chief ]? Is he gay, too?" I nodded. His face melted into a smile; he inched his chair closer to the table and loosened the furrow in his brow. "I thought you guys were straight! That's why I was giving you a hard time." His eyes, which had glared with impermeability all through the shoot, suddenly started to radiate warmth and comradeship. Sam's metamorphosis was so sudden and cartoonish, it suggested how much energy he was having to expend to protect his sexual orientation from people he feared would use it against him.
From that point on Sam opened up about his relationship with boyfriend Vito Cammisano, whom Sam famously kissed upon hearing the news that he had been drafted by the St. Louis Rams. The pair met for the first time at a lingerie party during his freshman year: 
"We didn't start off as huge fans of each other. I went up to him to ask if he was OK, and he started cursing at me, screaming, 'Fuck off — do you know who I am?' I told him I didn't care who he was. We didn't speak again for two years."
The two later reconnected and today, Sam cites Cammisano as being the instigating force behind him taking the courageous step to come out to his team in college: 
By the time they were reintroduced by a mutual friend during Sam's junior year, Cammisano had come out as gay. Sam, though, was still in the closet. One night, the trio went out together to a bar. "I could see he was interested," Sam said. "I bought him a couple of drinks, got us tipsy. Toward the end of the night, I put my arm around him, and it was over." The two started dating, but Sam was concerned about his teammates finding out. "Everyone knew Vito was gay, so we couldn't even be seen together. There was a lot of climbing out of windows." Eventually, the two split. As time went on, though, Sam grew more comfortable with being gay and the couple got back together before Sam's senior year. This time they made no efforts to hide their relationship, and Sam decided it was time to formally come out to his team. "Vito was really the person who showed me I had to do it," Sam said. "I wanted us to be comfortable…When I got up there in front of my team, it was actually the first time I said the words to anyone: 'I am gay.' Mizzou is a family. At another school, it might have been a different story."
You can read OUT's full cover story on Sam HERE.