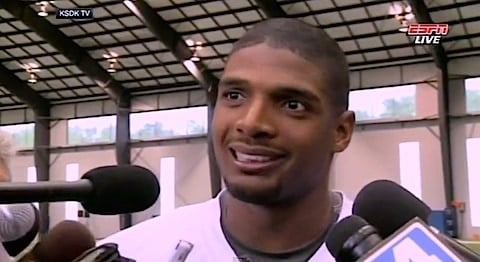 Earlier this week we mentioned NBC analyst Tony Dungy saying that drafting Michael Sam would have been a distraction, and we pointed out the hypocrisy in his reasoning given that Dungy was fine with the readmission of convicted criminal Michael Vick.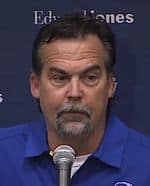 As if evisceration by Keith Olbermann wasn't enough, now St. Louis Ram's coach Jeff Fisher appeared on ESPN's radio show Mike and Mike to talk about Sam and said that the openly gay football player was "absolutely not" a distraction.
Said Fisher: "Let's define distraction. There were a couple extra cameras during the early OTAs, there may have been an extra camera yesterday as the rookies reported and went on the field for the first time, but no, it's not."
The audio is unembeddable, but you can find it on ESPN's website here. The audio is in an inconspicuous sidebar about two paragraphs down the article; the auto-playing video above the article is just host Mark Schlereth making excuses for Dungy's behavior.