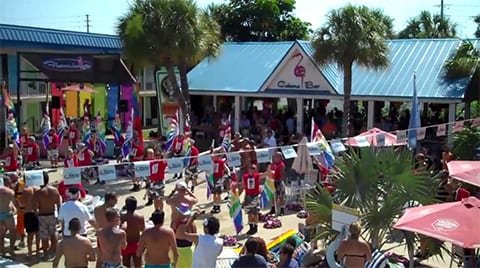 In an interesting legal kerfuffle, a St. Petersburg, Florida Resort has sued Pinellas County, questioning the line between niche markets and discrimination, according to The Tampa Bay Times. Representatives from the hotel in question, The Flamingo Resort (pictured), are claiming that the establishment's tax bill is too high, and that this is because they cater to a gay clientele.
Pinellas Property Appraiser Pam Dubov is familiar with a previous complaint of The Flamingo Resort's, and she doubts the validity of this new one. Said Dubov: "I categorically deny that we have any intent toward discrimination against the gay and lesbian community."
Dubov gives an example of how appraisers ballpark a property's value. For example, a restaurant that markets itself to small children might do less business, but it does not change the value of the property where the restaurant sits. In the example of The Flamingo Resort, the establishment took in $673,222 in 2012, but the property appraiser calculated a potential $1.1 million
The reasons given for this valuation were numerous. The building is old and requires considerable maintenance, there have been no renovations on the resort since construction, and the Flamingo operates under a 28 percent occupancy rate. According to the board records, the representative is specifically quoted as saying the hotel is "functionally obsolete" because of "the substandard location, and older furniture, fixtures and equipment that cannot be updated."
The board is also quoted as saying "It is difficult to determine whether or not this property could generate more net operating income if it did not appeal to a niche market."