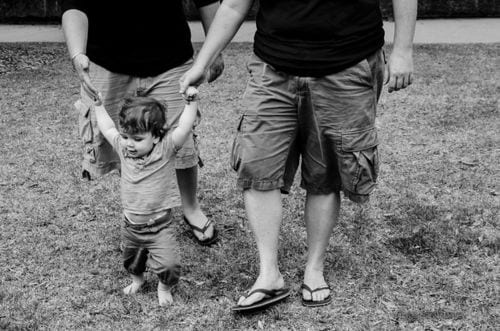 A new study from Australia's University of Melbourne suggests that the children of same-sex couples may be happier than their heterosexual couple-reared counterparts. Researchers surveyed 315 same-sex parents and 500 children, enquiring specifically about the subjects' "physical health and social well-being."
Doctor Simon Crouch, head researcher for the study, says the University found children raised by gay partners on average scored 6 percent higher than the general population, based on the study's metrics of family unity and general health.
The results specifically indicated a lessened reliance on stereotyped gender roles for gay parents. Said Dr. Crouch:
Previous research has suggested that parenting roles and work roles, and home roles within same-sex parenting families are more equitably distributed when compared to heterosexual families… So what this means is that people take on roles that are suited to their skill sets rather than falling into those gender stereotypes, which is mum staying home and looking after the kids and dad going out to earn money… What this leads to is a more harmonious family unit and therefore feeding on to better health and well-being.
The study also found that today same-sex parented families are still often dogged by stigma. Dr. Crouch points out this can be anything from bullying on the playground to "a letter from school addressed to Mr and Mrs."
Critics of the study include Roslyn Phillips of Family Voice Australia, an organization that promotes "Christian Family Values." Phillips said: "You've got to look beyond studies like these to what happens when the child reaches adulthood." She also questioned whether there was bias at play, pointing out that Dr. Crouch and his male partner are raising a family. In response, Crouch acknowledged his background, but pointed out he is "one of a number of researchers on the paper who come from all sorts of different backgrounds."
[h/t ABC, image via Buzzfeed, Sarah Dixley for Australian Marriage Equality]