Utah will not have to recognize the marriages of approximately 1,000 gay couples who married after a federal judge struck down the state's ban on gay marriage while the case is appealed, the U.S. Supreme Court ruled on Friday.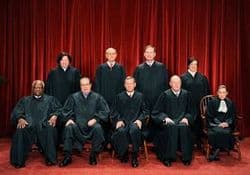 The NYT reports:
The court's order was two sentences long and said only that a lower court's ruling "is stayed pending the final disposition of the appeal" by the federal appeals court in Denver.
The marriages took place between Dec. 20, when Judge Robert J. Shelby of Federal District Court in Salt Lake City struck down Utah's ban on same-sex marriage, and Jan. 6, when the Supreme Court issued a stay blocking that ruling while the decision was appealed.
Joshua Block, a staff attorney with the ACLU Lesbian Gay Bisexual and Transgender Project, released a statement:
"We are deeply disappointed by the decision to grant a stay pending appeal, but despite this setback, we are confident that when the appellate process is completed we will prevail and these lawfully married same-sex couples will once again be given the same legal protections as ever other legally married Utah couple."