Joe Biden, everyone's favorite no-nonsense vice president, believes that his coming out in support of same-sex marriage will be a lasting legacy from his time in the Obama administration. Biden made headlines in May of 2012 after voicing his unequivocal support for gay marriage ahead of president Barack Obama during an interview on Meet the Press.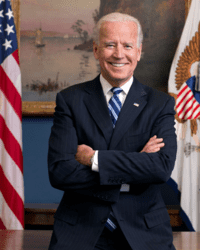 Biden's statements are thought to have forced the President's hand in making his own support for LGBT rights more concrete just days after Biden's interview. Biden, to his credit, says that he didn't intend to preempt the President , but rather wanted to be clear in his position.
"To set the record straight … my comments on 'Meet the Press' were not planned," Biden explained at the Make Process National Summit. "[B]ut what was planned and understood was when I get asked a direct question, I give a direct answer."
Biden went on to explain that he felt as if  the outpouring of support that he received following the interview was really more deserved to members of the LGBT community.
"I didn't free the LGBT community, what you all did, what they did was free every straight woman and straight man in this country."
Relive Biden's career defining Meet the Press moment AFTER THE JUMP…