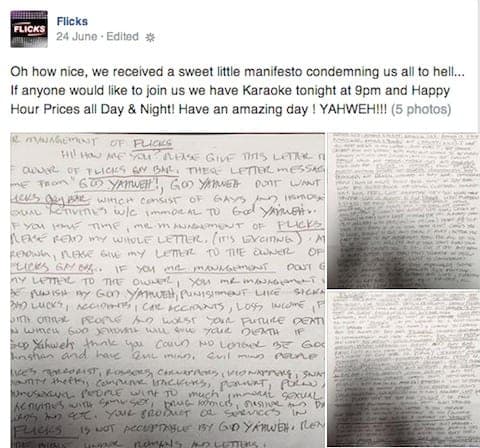 Threatening letters have been sent to two gay bars in San Diego.
Baja Betty's and Flicks, both in the Hillcrest area of the city, received the letters that threaten "car accidents, even death," according to ABC 10 News.
The letters, each with fake return addresses, come amid a series of decisions favouring same-sex marriage in California.
The 15-page letter sent to Baja Betty's, written by "Eddie 777, servant and messenger of God Yahweh," says that the bar is full of pedophiles and sex addicts and that "god will punish you, Mr owner and staff, with bad luck, bad karma, injuries, accidents, car accidents, and worse, death."
Speaking to ABC 10 News, Baja Betty's marketing manager Eddie Reynoso said:
"In my opinion, it's a definite reflection of the current progress toward equality. It's not going to distract us from our momentum. In fact, it's going to make us celebrate even more."
Although a report has been filed, police have yet to make a statement.
Watch the ABC 10 News report, AFTER THE JUMP…