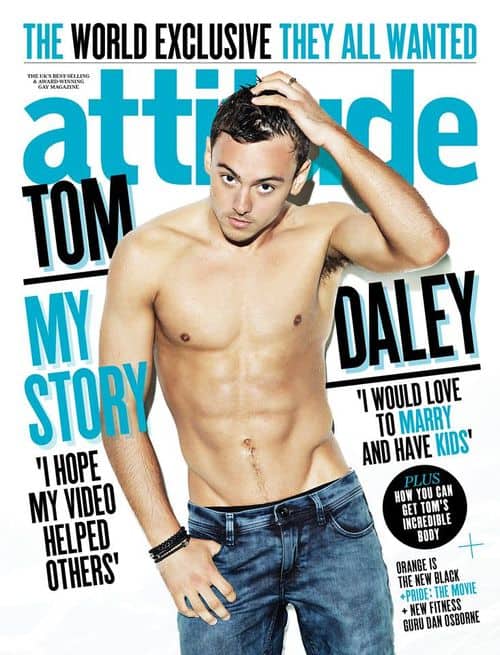 The new issue of Attitude magazine finds Tom Daley slightly more clothed than usual, opting for jeans rather than a speedo. Still, the superstar diver is burning up the cover. His dashing good looks were not the focus of his interview, though it does happen to coincide with the release of Attitude's Hot 100 List, upon which Daley is sitting pretty at number one.
Attitude reports:
"I just wanted to say a massive thank you to everyone who voted for me in Attitude's HOT 100 – it means the world," said Tom following the announcement at Attitude's exclusive HOT 100 party in central London.
Though one could admire Daley for his impressive diving technique, or his six-pack, he is also a role model for young LGBT people around the globe.
In his first ever gay press interview, the 20-year-old Olympic diver talks about how he balances his rigorous training schedule with his relationship with American screenwriter Dustin Lance Black – and also discusses coming out in a YouTube video last December.
"If the video helped anyone going through something similar, then that's great," Daley says. "I filmed that video because I wanted to tell people in my own words."
After saying that "everyone should have the right to marry the person they love", the London 2012 bronze medallist reveals that he sees himself getting married one day. "Family is something that has always been really important to me and yes, at some point I would love to marry and have kids," he says.
Congrats Tom!