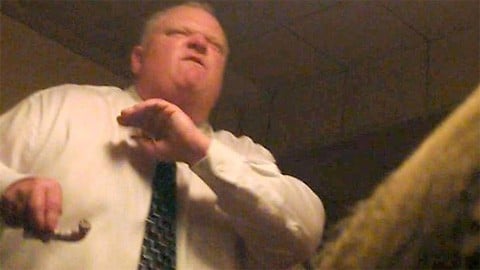 The Toronto City Council voted 37-1 on "a proposal to find ways to better assist homeless young people who are gay," the Toronto Star reports:
The three-part proposal asks the city's shelters chief to look into allocating 25 per cent of beds in an existing youth shelter to people who identify as LGBTQ2S (lesbian, gay, bisexual, trans, queer, two-spirited).
It also asks the city to issue a call for expressions of interest in operating a shelter or transitional housing for gay youth, and requires the city to provide anti-homophobia training to all shelter employees.
The lone dissenting vote? Homophobic Mayor Rob Ford.
According to the paper:
Ford, who has a long history of homophobic remarks and opposition to gay initiatives, placed a temporary "hold" on the proposal Tuesday to prevent it from passing unanimously without a vote. He did not explain his opposition.
The vote came a day after Ford refused to stand during a council ovation for the organizers of the World Pride festival. He said later that he is "not homophobic," but he would not explain why he did not join in the applause.
Despicable.