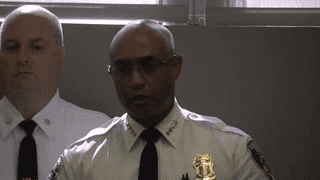 Mia Henderson, the transgender sister of LA Clippers shooting guard Reggie Bullock, was found dead in Baltimore earlier this week. The exact circumstances surrounding Henderson's death are unclear, but signs of severe trauma have led the Baltimore City Police Department to understand that "there was a homicide."
Bullock expressed the grief of having lost his sibling, whom he remembered as his brother Kevin via Twitter not long after news of the homicide broke.
Henderson was last seen with an unidentified man, suspected to be her killer, heading into an alleyway known for prostitution, according to the Baltimore Sun. Henderson's death is the second to have been classified as a murder in Baltimore this summer since June.
"I have high expectations to resolve these cases." Said Police Commissioner Anthony Batts in a press conference. "We want to be strong partners within our transgender community, not by talk, but by actions."
Watch video of the press conference (autoplay), AFTER THE JUMP…