Fausto Fernos and Marc Felion, the hosts of Feast of Fun, have launched a Kickstarter campaign to bring their on again/off again web series Cooking with Drag Queens back with a vengeance. Long before RuPaul's Drag Race, the two podcast hosts made a career out of interviewing and introducing drag queens to their audience.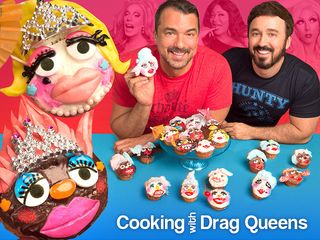 While Drag Race's has undoubtedly popularized queen culture for a modern audience, the duo wants to give the public a chance to see the queens they've come to love in a less competitive setting. Like any cooking show worth its salt, Cooking With Drag Queens promises to be about personality as much as it is about food. Alaska Thunderf–k, Sharon Needles, and Pandora Boxx are among the drag queens to have appeared on on the web series so far, but Fernos and Felion want to expand their reach to give up and coming queens a chance to make a name for themselves.
Their Kickstarting goal of $12,000 will go towards hiring a full production crew, bringing the queens in town, and giving them all the food to work with. The team is still actively looking for drag testimonials from any and all queens interested in becoming a part of the project.
Check out the Cooking With Drag Queens trailer AFTER THE JUMP…