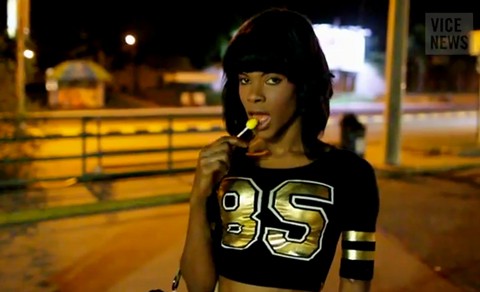 While homosexuality is not technically illegal in Jamaica, British colonial anti-buggery laws punish sodomy with a 10-year prison sentences and hard labor. Living as an openly LGBT Jamaican risks police harassment, muggings, violent stabbings, burnings and even death.
In his 25-minute video report with Vice News, reporter Christo Geoghegan says:
"With cultural and religious conservatism rife, being out and proud isn't exactly an option. While some believe Jamaica's attitudes to homosexuality are slowly evolving, last year actually saw an increase in homophobic and transphobic violence with attacks often taking place in broad daylight and shared across social media."
So as a way to protect themselves, homeless LGBT youth near the country's capital of Kingston have taken to living in a storm drain called "The Gully." Vice News interviewed them and examined whether repealing the country's buggery law will help reduce the anti-LGBT stigma these youth face on a daily basis.
A conservative evangelical group called the Jamaican Coalition for a Healthy Society states that LGBT people want to repeal the law because "deviant behaviors are now to be considered normal and positive aspects of human sexuality." Uganda's Martin "Eat Da Poo Poo" Ssempa used similar rhetoric as a way to de-humanize LGBT people and foment physical revulsion and disgust against their sexual identities.
Rich queens in Jamaica — LGBT people with economic standing — can insulate themselves against the worst forms of homophobia unlike the "poor queens and the scary queens" who must hustle, sell snacks or do sex work to make money.
Local politicians blame the Gully queens and their parents for their own situation, stating that the queens rob people, aren't fit for employment and never file police reports of violence. But the queens and other LGBT Jamaicans inherently distrust the cops and inactive politicians as complicit players in the country's anti-LGBT culture.
Earlier this year, Kingston-area police burned the Gully queens belongings and tried to run them out, stating that their presence "attracted criminals." But a judge ruled that the queens had every right to live there and so they returned.
Since then, the Gully queens have done their best to form comfortable lives within self-made families while protesting for their right to exist safely  amid an atmosphere of unending hatred and violence against them.
Watch the video AFTER THE JUMP…