Wisconsin has finally decided to appeal the ruling striking down the state's gay marriage ban, the AP reports: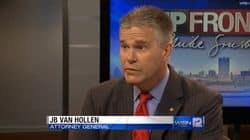 U.S. District Judge Barbara Crabb ruled on June 6 that the ban, approved by voters in 2006, was a violation of gay couples' equal protection and due process rights. More than 500 same-sex couples got married in the state before Crabb put her ruling on hold a week later, pending the expected appeal from Republican Attorney General J.B. Van Hollen.
The case now heads to the 7th U.S. Circuit Court of Appeals in Chicago.
Wisconsin had until July 21 to file an appeal but decided to do it now to keep pace with Indiana's which is also at the 7th Circuit, and has been expedited.