Around 25,000 people marched in the U.S. Virgin Islands (USVI) last Saturday in opposition to same-sex marriage.
The Jamaica Gleaner reports on an anti-gay march in St. Thomas in response to a proposed bill that would change the definition of marriage to mean a legal union between two people, regardless of gender.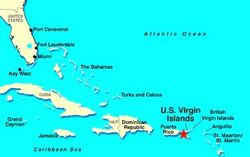 Referring to a similar march against "the homosexual agenda" in Jamaica in June, Alger Warren, vice-chair of One Voice Virgin Islands (OVVI) and pastor of Faith Christian Fellowship Church Alive in Christ in the USVI, said:
"We applaud the people of Jamaica for coming out and taking a stand. We used the Jamaican march as a catalyst to encourage people to come out, because we said, 'Look, Jamaica got close to 25,000 people to come out in support of the traditional family against same-sex marriage.' So we did reference the march in Jamaica and continue to reference it, so hopefully, that will inspire people to even come out for our march also."
Harriet Mercer, a member of the petition committee of OVVI, said that the march aimed to send a message to politicians that "like Jamaica, we too are against any kind of buggery being legalised."
Reacting to the news of the USVI march, the Reverend Dr Stevenson Samuels, chairman of Churches Action Uniting Society for Emancipation, the umbrella group responsible for the anti-gay march in Jamaica, said:
"We are extremely elated that other Caribbean countries are standing in support of what we are doing, and it really is just a testimony that there are countries with a large number of persons who have a concern for the well-being of their country. It is not just the US Virgin Islands. There are persons from other countries that have contacted us expressing their support and also their desire of doing something similar. We consider [the USVI] as our brothers in the fight, we consider them as people who really want the best for their country and we are in support of them."
[The Jamaica Gleaner article above mistakenly mentioned the number of attendees at the rally. The post has been updated]
[photo via Facebook]