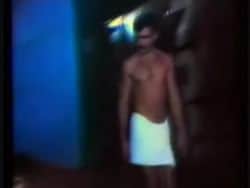 Originally conceived as important bastions of sanitation in urban centers, American bathhouses became meccas for gay hook-up culture and entertainment in the 1960s and 70s. At that time, nearly 200 bathhouses were open around the country; now only 70 remain, and owners are scrambling to alter their image and attract youthful crowds of a new generation.
ABC News reports:
"Bathhouses were like dirty bookstores and parks: a venue to meet people," said Sykes, who still owns the smaller North Hollywood Spa. "Today, you can go to the supermarket…"
Privately run, gay-owned bathhouses proliferated in the 1970s, offering a haven for gay and bisexual men to meet. Clubs like New York City's Continental bathhouse and Los Angeles' 8709 Club saw a steady stream of patrons…
Amid the AIDS epidemic in the early 1980s, bathhouses were vilified for enabling promiscuity and helping spread the disease, and many either closed voluntarily or by legal pressure. Those that remained were stigmatized, and now many younger gays see them as anachronisms.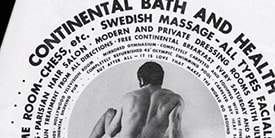 In an effort to regain appeal, many bathhouses offer cheap admission prices for the younger set and amenities beyond the standard towel. Ohio's Cleveland-based Flex Spa, for example, contains luxury hotel rooms and nightclub venues; as such, it has become a fixture of gay culture beyond its sexual and social connotation, serving as the location for the Gay Games and the city's gay pride parade.
[Flex Spas CEO Todd] Saporito said more progressive views on homosexuality aren't evenly spread across the country, underscoring the need for modern bathhouses in some areas. Still, he takes nothing for granted, regardless of the location.
"Bathhouses at some level will go extinct if you don't offer something more than a towel," Saporito said.
And there is community, safe sex, and companionship to be found as well.
"You're either hooking up online or you are here, or you go to bars in West Hollywood, get drunk and hook up," said [22-year-old Brett] Sparks, acknowledging that although the bathhouse crowd skews older, it's not as risky as going home with a stranger. "Here it's a safer environment — there's condoms and other protection."
Here's hoping that bathhouses overcome the stigma and become important communal fixtures once more.