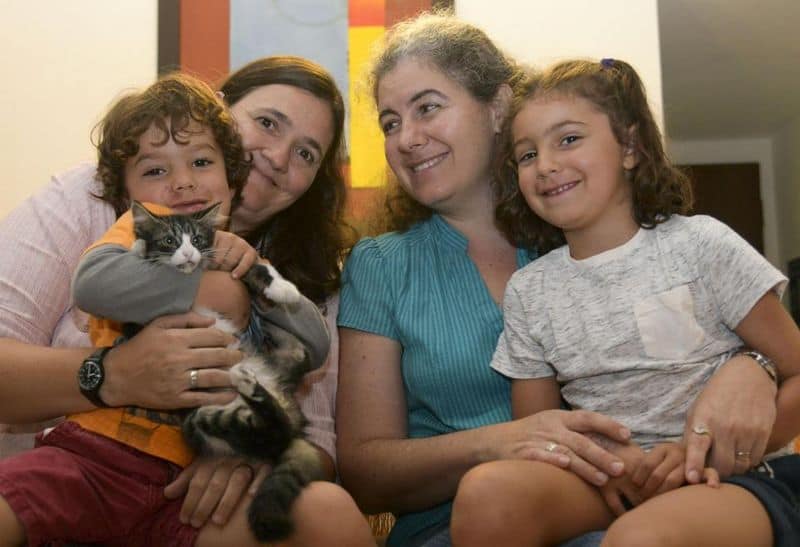 Last week, gay parents in three different nations celebrated several significant wins within the court systems of their respective countries. The courts granted fundamental custodial rights to gay families in Colombia, Italy and Switzerland.
On Thursday, Colombia's Constitutional Court ruled that Veronica Botero could legally adopt the biological child of her lesbian partner, Ana Leiderman. Five years ago, Leiderman underwent artificial insemination to have the child, whom her partner helped raise since birth. The AFP news agency reports:
With six votes for and three abstentions, the court ruled that Leiderman, who underwent artificial insemination to conceive her daughter and raised her together with Botero, had the right to request an adoption by her partner regardless of sex.

"The court considered that the discriminatory criterion the administrative authority had used to deny the adoption procedure… was unacceptable in this case, which involves a consensual adoption in which the biological father or mother consents to an adoption by his or her permanent partner," said chief justice Luis Ernesto Vargas Silva.
This ruling, however, does not allow adoption by gay couples in cases wherein neither is the biological parent of the child.
Meanwhile in Italy, a court in that country also ruled that a woman could adopt the biological child of her partner. The online news site The Local reports:
In this case, the non-biological parent was allowed to adopt the child due to a clause in Article 44 of Italy's adoption law of 1983, which prioritises "the best interest of the child in order to maintain the emotional relationship and cohabi-tation with the 'social' parent," Pili added, such as the person who has raised the child other than the biological parent.

"This particular article of adoption law does not discriminate between heterosexual and homosexual parents," she said

The court ruling was described as an "historic step for our country" by the gay rights group, Mario Mieli Society for Gay Culture.
In Switzerland, a court in the northern part of that country has ruled that a gay couple are legally the parents of a child born to the men via surrogate in California. 
The American birth certificate was based on a California court decision by which the surrogate mother and her husband abandoned their parental responsibilities for the newborn. The Saint Gallen cantonal department responsible for births and marriages supported the two men but the Swiss federal justice department appealed the canton's decision, which brought the case to court.

The court ruling dated August 19th partially recognized one concern of the justice department by requiring the genetic parentage of the child to be registered as part of the birth certificate. However, in its decision the court clearly recognizes the two men as fathers. "The administrative court recognized the judgment from the United States," Karin Hochl, the lawyer for the gay couple told SDA.
This ruling can be appealed and then brought to the Swiss Supreme Court. No word yet if there are plans to do so.