Earlier this week, we reported that  plaintiffs in the case challenging Utah's ban on same-sex marriage have filed a brief asking the Supreme Court to finally weigh in on the question of whether all citizens have a fundamental right to marry.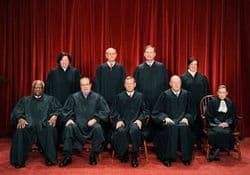 Now, the plaintiffs challenging gay marriage bans in Oklahoma and Virginia have similarly followed suit and asked the highest court in the land to review their cases as well, The Advocate reports:
When the justices return from vacation in late September, they'll likely find unanimous agreement from all parties that they should consider a marriage equality case. But which cases the court will pick remains in question.
It's worth noting that the cases would have reached the Supreme Court even if the plaintiffs hadn't filed their petitions. The defendants in the cases — attorneys representing the states — have filed petitions as well.
Previously, the same-sex couples serving as plaintiffs in all three states won major victories at the district court and appellate level. Utah, Oklahoma, and Virginia all enjoyed an unbroken string of victories for the freedom to marry. Ordinarily, the victorious side would oppose a rehearing, as it runs the risk of overturning the decision. But the motivation behind the plaintiffs' briefs boils down to their desire to expand their victories nationwide.
The court has the option of taking up one case, multiple cases, or none at all and could defer a decision until next June.