George R.R. Martin, author of A Song of Ice And Fire, the series that inspired Game of Thrones, has opened up about why the popular television series has been somewhat more explicit in its depictions of gay and bisexual sex compared to the books.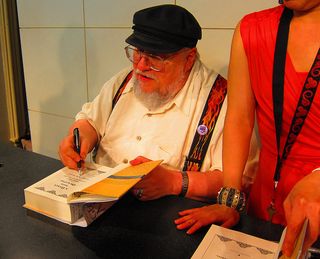 Unlike the television show, which jumps between scenes, settings, and perspectives in typical TV fashion, Martin writes each chapter of the series from the viewpoint of only one character, giving the chacters an interior voice that is more nuanced because of its limitations.
Cersei Lannister, played by Lena Headey, for example is commonly depicted in the HBO series as a scheming, shrewd lush foiled by the meddling men around her. The same can be said of her characterization in the books, but seeing the world of Westeros through her eyes and being able to read her thoughs out verbatim casts the queen regent in a different light.
"Frankly, it is the way I prefer to write fiction because that is the way all of us experience life," The author elaborated during a panel at the Edinburgh International Book Festival. "A television show doesn't have those limitations."
Renly Baratheon (Gethin Anthony), younger brother to Stannis (Stephen Dillane), was portrayed as explicitly gay and somewhat openly in love with Loras Tyrell (Finn Jones), a member of his kingsguard in previous seasons of Game of Thrones despite their relationship being merely hinted at in the novels.
Martin went on to say that he's very well aware of the–primarily female–demand for more gay sex scenes in his literature. iif and when the descriptions became integral to the development of the plot, he added, he would consider writing them.
Watch Game of Thrones's Gethin Anthony discuss the possibility of a Renly/Loras spinoff  AFTER THE JUMP…