Ugandans fleeing from the country to avoid its brutal, discriminatory Anti-Homosexuality Act are finding the cultural climate no less hostile into neighboring Kenya, according to their accounts. Legalized in February before more recently being struck down on a technicality, Uganda's Anti-Homosexuality Act criminalized a variety of behaviors and threatened lifetime imprisonment for those found in violation. Hoping to avoid persecution, many LGBT identified Ugandans fled to Kenyan refugee camps hoping to find a more accepting, if temporary, home.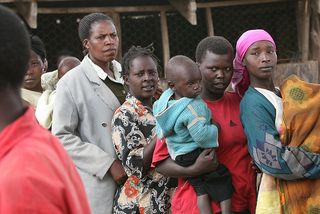 "The reaction shocked me. I went there. I thought it would be a celebration, but … nothing," Brizan Ogollan explained to the Huffington Post."They knew at an international level and at the diplomatic level, the decision is going to have impact, but at the local level, it won't really. You can overrule the law, but you can't overrule the mind."
Ogollan runs an international aid organization that coordinates with the Kakuma refugee camp. Kakuma, whose name in Swahili means "nowhere" is known as a transitional camp through which many refugees pass on their way to their permanent resettlements. Kenyan society, Ogollan says, is no less homophobic than Uganda's.
Like in Uganda, homosexuality is illegal in Kenya, and LGBT Ugandan refugees are faced with ostracization both for their sexual and gender presentations as well as their status as displaced people. Queer Ugandans report facing open aggression within the camps and persistent difficulty finding work within Kenyan cities.
The United Nations' refugee agency has taken note of the difficulties facing the refugees and has expressed its intention to expedite the relocations of the 35 Ugandan refugees officially registered as LGBT with the U.N.