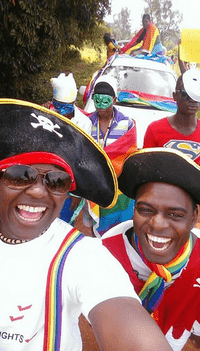 On Saturday, Uganda's LGBT and ally community marched through the lakeside town of Entebbe – the third annual gay pride celebration and the first public event since a Ugandan court invalidated the country's Anti-Homosexuality Act last week. 
The AP reports:
About 200 people are expected to attend the event, said Ugandan gay activist Moses Kimbugwe. He said participants were waiting for police protection before they marched through sprawling botanical gardens in Entebbe, about 40 kilometers (25 miles) from the capital of Kampala.
Many marchers wore masks, signaling they did not want to be publicly identified in a country where homosexuals face discrimination. Others waved rainbow flags as they danced and frolicked on a sandy beach.
Pictured right is prominent gay-rights activist Frank Mugisha and other pride goers.
On Wednesday, more than 100 members of country's parliament pledged to bypass rules of procedure and swiftly reinstate the anti-gay law. 
[via Twitter]