Attorneys representing the plaintiffs in a case challenging Arkansas' ban on same-sex marriage filed a motion earlier this week asking members of the state Supreme Court to recuse themselves from the case if they're seeking reelection.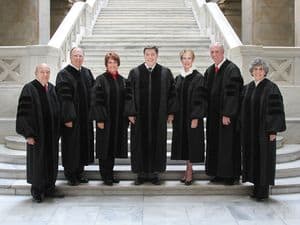 The reason for the unusual request is that those seeking reelection have been threatened with retaliation by conservative state lawmakers should they side with marriage equality.
The Arkansas Times reports that up to five of the seven justices could be up for reelection and thus covered by the motion filed last week.
Judge Chris Piazza struck down the state's statutory and constitutional bans on same-sex marriage. His decision has been appealed, but its effectiveness stayed. As it now stands, it might be decided by November, depending on whether delays are requested.
In the meanwhile, the Legislative Council has adopted a resolution sponsored by Sen. Jason Rapert that said Piazza had overreached in his decision. It called on the Supreme Court to uphold the constitutional ban on same-sex marriage and to nullify any of the roughly 500 marriages that occurred in the week before his ruling was stayed. The resolution, hand-delivered to the court, said the legislature would pursue legislative remedies to prevent the popular will from being thwarted by "judicial activism." Legislators have said this could include proposing for the ballot a judicial recall mechanism in 2016.
The motion said the legislature had filed the resolution with the court, essentially a threat to take action against a judge who ruled contrary to legislative wishes.
More at the Arkansas Times.…
The state has until September 8 to file its brief in the case and it's unclear when the Court would rule.
Attorney General Dustin McDaniel, who personally supports marriage equality but is fighting to keep the state's ban in place, said in a statement that the justices should not step aside.
"So long as we have our current system, it is a nonstarter to file recusal motions simply because justices must hear controversial cases and then stand for election, as that is precisely what is contemplated in our constitution."