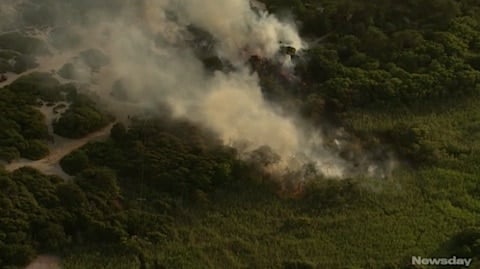 A large brush fire erupted for two hours on Thursday in an area between the gay Fire Island communities over Cherry Grove and The Pines in an area technically known as the Carrington Tract but known by locals as the "meat rack" because of its history as a cruising area.
Fireboats and 17 fire departments from Long Island, which are required to transit the Great South Bay with equipment because of the lack of roads and proper vehicles in these communities, fought the blaze, Newsday reports:
The wildfire was confined to an undeveloped area and was reported just after 5:40 p.m. and put out just after 7:30 p.m., said a Suffolk County official from the Department of Fire, Rescue and Emergency Services.
Contingents of firefighters from the mainland were ferried in, along with their shovels and brooms, the official said. Those tools were used to rake over the brush in search of embers and to dump soil over any hot spots, authorities said.
In November 2011, fire destroyed the Pines' iconic Pavilion nightclub and several other buildings. They have since been completely rebuilt.
Thursday's blaze was deemed suspicious.
Several residents posted photos to social media.
Watch Newsday's raw footage of the fire HERE.
Fire in the meat rack, cherry grove, fire island pic.twitter.com/TDq5ZPRoJu

— Paul Soulellis (@soulellis) August 7, 2014