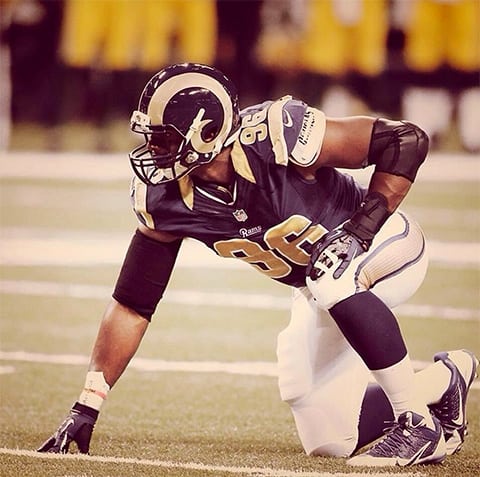 Michael Sam, the first out gay player to be drafted into the NFL, made it past a critical cut in the St. Louis Rams' roster yesterday, keeping alive hopes that he will make the team's final lineup. AFP reports:
The Rams trimmed four players from the active roster to reach the NFL-required limit of 75 players by Tuesday, but another 22 players must be dropped by Saturday afternoon to create the final 53-man roster for the regular-season openers.
The Rams play their final pre-season game Thursday at Miami and will open the regular season at home against Minnesota on September 7.
Sam, a rookie from the nearby University of Missouri, is among eight defensive ends competing for up to six expected spots at the position. He ranks third on the right side depth chart but injuries could see the Rams keep more players than usual at the position as a precaution.
Though Sam has had a strong pre-season showing, notably sacking Johnny Manziel on Sunday, Sam's biggest hurdle to landing a spot on the roster could be another rookie on the St. Louis bench this year, Ethan Westbrooks, who, according to Business Insider and Sports Illustrated, "is playing out of his mind" and "is the apparent frontrunner to take the final roster spot for a defensive lineman."
The Rams' will announce the final team roster this Saturday. 
(photo via Instagram)