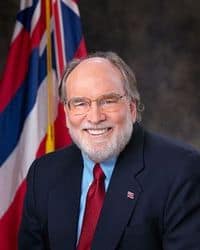 Neil Abercrombie, the Hawaiian governor who successfully led his state's efforts to pass marriage equality legislation last year, has lost his bid for a second term, the AP reports.
State Sen. David Ige, once seen as an underdog, cruised to a decisive 35 percentage point win in Saturday's primary after being dramatically outspent by Abercrombie, who also had high-profile endorsements including President Barack Obama. Ige said his win "proves that people power can be money power, especially in Hawaii." […]
Abercrombie is the first Hawaii governor to lose to a primary challenger and only the second not to win re-election. His defeat comes after Obama last month cut a radio ad for Abercrombie, invoking the Hawaiian word for family to tell voters in his native state that Abercrombie is "like ohana to me."
The AP adds that Abercrombie's confrontational style and proposal to raise taxes last year contributed to his defeat.
Ige voted in favor of the marriage equality bill last year.