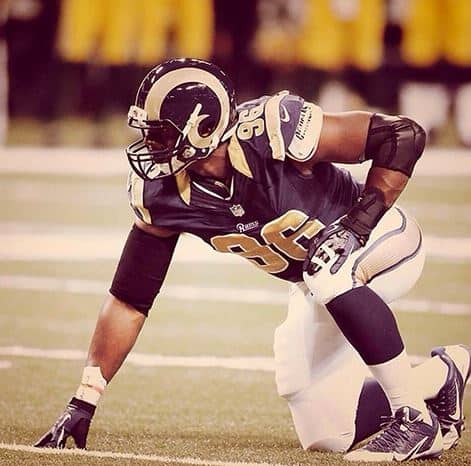 Early reports are coming in that Michael Sam has failed to make the St. Louis Rams' final cut and will not be on the team's 53-man roster.  
Sam was widely seen to be competing for the ninth spot on the defensive line with fellow rookie Ethan Westbrooks.
Tweeted Sam:
I want to thank the entire Rams organization and the city of St. Louis for giving me this tremendous opportunity and allowing me to (1/2)

— Michael Sam (@MichaelSamNFL) August 30, 2014
show I can play at this level. I look forward to continuing to build on the progress I made here toward a long and successful career (2/2)

— Michael Sam (@MichaelSamNFL) August 30, 2014
The most worthwhile things in life rarely come easy, this is a lesson I've always known. The journey continues.

— Michael Sam (@MichaelSamNFL) August 30, 2014
Outsports reports that Sam will be available to the other 31 teams for 24 hours.
If he gets claimed, he will have a spot on the roster of that team. If he is not claimed, he can be added to the Rams' 10-man practice squad. This means he can practice with the team but not play, and his salary would be much less than the $440,000 he would get for making the roster; practice players are guaranteed a minimum salary of $6,300 per week for the 17-week season.
All throughout the preseason, Sam had been demonstrating his prowess on the field as defensive end – including an impressive sack of Cleveland Browns quarterback Johnny Manziel ("Johnny Football") during last week match-up. 
Earlier this week, Rams' head coach Jeff Fisher praised Sams' performance, saying "I believe he can play in this league"
[photo via Instagram]