Utah has become the first state to appeal a ruling striking down a state ban on gay marriage to the U.S. Supreme Court, the Salt Lake Tribune reports: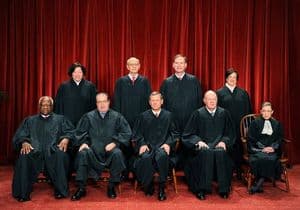 Utah announced last month its intent to appeal the 10th Circuit's decision to the nation's high court. The Supreme Court is on break until the fall, at which point the justices will review Utah's petition and decide whether to hear the case — known as granting certiorari.
Should the court decline to hear the case and deny Utah's request, the 10th Circuit's decision would stand — effectively legalizing same-sex marriage in all of the states in that circuit: Colorado, Kansas, New Mexico, Oklahoma, Utah and Wyoming.
The question presented to the court, according to the state's petition, is "whether the Fourteenth Amendment to the United States Constitution prohibits a state from defining or recognizing marriage only as the legal union between a man and a woman."
The plaintiffs in Kitchen v. Herbert are represented by Peggy Tomsic of the Salt Lake City law firm of Magleby & Greenwood, P.C., and the National Center for Lesbian Rights (NCLR).
Said Tomsic in a press release:
"We respect the State's right to seek review of its own law in the highest Court in the land, but we also respectfully, and vehemently, disagree with the notion that States can deny one of the most foundational rights to the millions of same-sex couples living across this great land. We look forward to reviewing the Petition filed by Utah's excellent lawyers, and to responding to it in due course."
Added NCLR Legal Director Shannon Minter:
"We respectfully disagree with the State of Utah's lawyers. Utah's same-sex couples and their children are continually harmed by the enforcement of measures that deny them equal dignity, security and protection. We will carefully review the State's petition to determine the response that will best advance our goal of winning for all Utahns the freedom to marry the person they love, and to have their marriages treated the same as other couples' marriages."
The Utah petition below:
Herbert v Kitchen Petition and Appendix by Equality Case Files
Wednesday will be another big day for legal marriage challenges in the U.S. as the Sixth Circuit hears six separate marriage equality cases from Kentucky (two cases), Michigan, Ohio (two cases), and Tennessee.
NCLR is involved tomorrow as well. Al Jazeera reports:
"This is the most marriage equality cases ever heard in one court at one time, but the underlying situation is kind of incredible as well," said Shannon Minter, legal director of the National Center for Lesbian Rights, which is a plaintiff in the case challenging Tennessee's same-sex-marriage ban. "It just so happened they had six cases that affected every state in the circuit in the same time frame. It does make sense to assign them to the same judging panel, since they all present either identical or closely related issues."