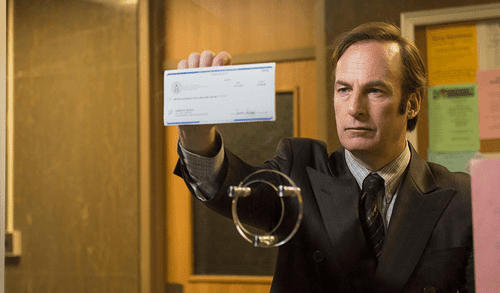 The first teaser trailer for Better Call Saul, the upcoming spin-off of mega-hit show Breaking Bad, has been put online and, while short, is enough to build excitement for the return of everyone's favorite skeeze lawyer Saul Goodman. 
Check it out, AFTER THE JUMP…(a heads up – the quality isn't the best)
The show's synopsis, via AMC:
Better Call Saul is the prequel to the award-winning series Breaking Bad, set six years before Saul Goodman (Bob Odenkirk) became Walter White's lawyer. When we meet him, the man who will become Saul Goodman is known as Jimmy McGill, a small-time lawyer searching for his destiny, and, more immediately, hustling to make ends meet. Working alongside, and often against, Jimmy is "fixer" Mike Erhmantraut (Jonathan Banks), a beloved character introduced in Breaking Bad. The series will track Jimmy's transformation into Saul Goodman, the man who puts "criminal" in "criminal lawyer."
Better Call Saul begins February 2015.
[photo via Ursula Coyote/AMC]