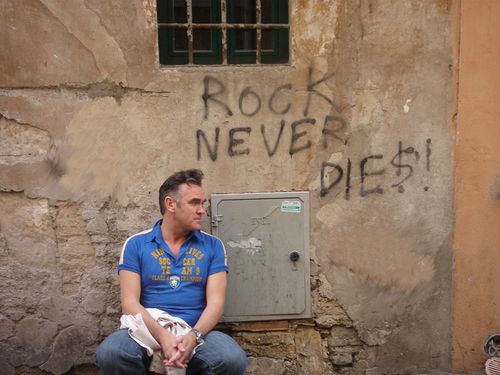 (image true-to-you)
http://profile.typepad.com/drew67
The Guardian caught up with George Michael over the weekend, with a rapid-fire question interview in which Michael handed off one-line quips on various topics such as his greatest fear (losing the ability to create music), his favorite word (go-on-then), his favorite book (impossible to answer) and how often he has sex (wouldn't you like to know).

But it was the answer to his final question which stirred the loins of the music world, when the Guardian asked him if he could tell them a secret. Said Michael:
"The Smiths are reforming."
Whether George Michael knows something we don't know or is just messing with the hearts of those who hope to hear Morrissey's voice and Johnny Marr's guitar back together again (more likely) is anyone's guess, but it's certainly the most interesting thing he said in the interview.
Morrissey's personal website True To You announced over the weekend that "Three weeks after the release of Morrissey's World Peace Is None Of Your Business (#2 UK, #14 US), Capitol Records/Harvest have ended their relationship with Morrissey, as directed by label boss Steve Barnett. Morrissey is once again in search of a record label."
For his part, Morrissey answered the question of a reunion (once again) in January, saying:
"I don't know a single person who wants a Smiths reunion! But, no, there aren't any bands I like to see again because your memory of them is how they were in their prime or at their best or at their most desperate, and you look to them to be someone that they no longer are."
He also said he'd be retiring from music about now.
And, Gigwise notes, this is what Marr had to say about a reunion three months ago.
And have a listen to George Michael's most recent release from Symphonica, a cover of the standard "Feeling Good", AFTER THE JUMP…