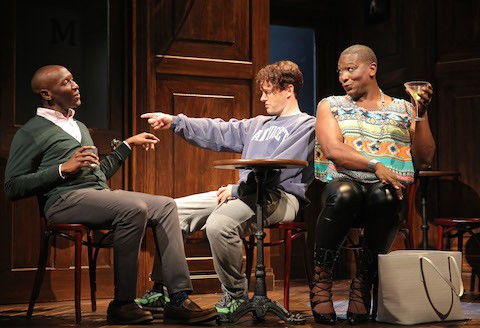 BY NAVEEN KUMAR
Of all the pet names you've heard used to describe your privates, "bootycandy" might be a first. As the title suggests, Robert O'Hara's wickedly funny and provocative new play, which opened Off Broadway last week at Playwrights Horizons, is anything but demure.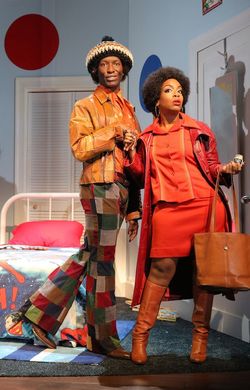 Through a parade of short scenes ranging from the outrageously-out-there to more intimate, but no less lively exchanges, the writer-director assembles snapshots of gay experience in a particular corner of black culture. Though plainly autobiographical, O'Hara's play unfolds less like a linear memoir than an episode of In Living Color, with actors performing multiple characters and offbeat sidebars peppering the central coming-of-age story.
We first meet Sutter (O'Hara's stand-in, a sensitive Phillip James Brannon) as a young fan of late '70s Michael Jackson—afro and all—asking his mom (Jessica Frances Dukes) the pressing, prurient questions of adolescence: Why do you call it bootycandy? Can I lick it? Mommy, what's a blowjob? The following scene puts us in the pulpit of a pastor (Lance Coadie Williams, a master of versatility) whose riotous sermon could double as a missive from RuPaul. Next we're in the crossfire of gossip calls between neighborhood hens (Dukes and Benja Kay Thomas) over an expectant mom choosing "Genitalia" as her future baby's name.
Though a bit of Sutter's story is introduced in act one (including his affair with a bi-curious friend, played by Jesse Pennington), the play's first half is something of a sprawl. Episodes seem strung together tenuously at best, and the lack of a clear narrative might try audience patience were it not for O'Hara's killer comedic rhythms and the company's adeptness at nailing laughs. As it is, the play's outer edges provide a colorful context for the playwright's exercise in self-discovery.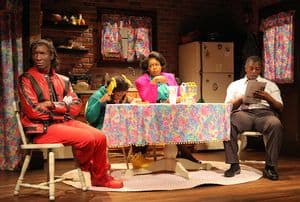 The second act more closely follows Sutter's personal story, unpacking his family relationships and sexual history and tapping into his latent rage at feeling oppressed by straight norms. Weightier elements, like a teenage Sutter alerting his parents to a potential sexual predator, are balanced with O'Hara's biting humor, often hinging on outsize black stereotypes.
A uniformly great cast breathes life into O'Hara's medley of characters, from sassy shade-throwers to those with quieter convictions. Set and costume designs by Clint Ramos impressively juggle the play's variety-show-speed changes between venues and personalities.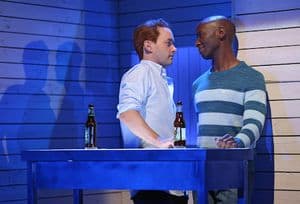 Aside from a deliciously frank treatment of race and sexuality, the most daring aspects of O'Hara's play are in its composition, including scenes that break the "fourth wall," asking (even forcing) the audience to digest the play's deeper implications beyond sidesplitting laughs. Thanks to O'Hara's buoyant hand with comedy, these jarring moments of accountability go down like medicine with a spoonful of sugar.
Recent theatre features…
Michael Cera and Kieran Culkin Open On Broadway in 'This Is Our Youth:' REVIEW
Andrew Rannells on Stepping into Broadway's Highest Heels in 'Hedwig and the Angry Inch:' INTERVIEW
David Byrne and Fatboy Slim Musical 'Here Lies Love' Returns Off Broadway: REVIEW

Follow Naveen Kumar on Twitter: @Mr_NaveenKumar (photos:joan marcus)