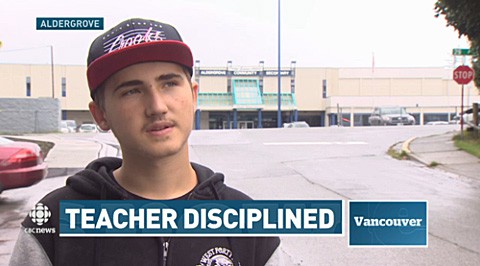 It's one of the oldest student pranks in the book: stick a sign on another kid's back that says "kick me" or some other phrase meant to humiliate.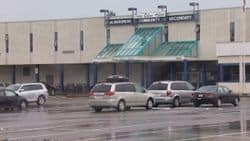 But in a 2013 incident at Aldergrove Community Secondary School in Langley, British Columbia, the prank was played by a teacher. Daniel Mark Ogloff, a metal and machine shop teacher, placed a piece of masking tape on a student's back with the words "I'm gay" written on it, clearly intending to mock the student, The Province reports:
"Ogloff placed a piece of masking tape on the back of the jacket of a male Grade 11 student" with the words 'I'm gay' written on it, according to the report.
"Ogloff then gestured 'shhh' to the students after putting the tape on and pointed at another student and mouthed words to the effect, 'It was him.' "
Students were laughing and taking photos.
"Ogloff considered this to be horseplay," said the report.
Ogloff was suspended for 10 weeks for that incident and was ordered to participate in a "restorative action" with the student. He was also ordered to participate in mandatory mentorship with another teacher and to complete courses required by the district.
"Ogloff disputes the appropriateness of this discipline," according to the report.
In the other incident, Ogloff in December 2012 "spoke inappropriately and disrespectfully" to a Grade 12 student who approached him in class to ask why she was the only student failing.
"Ogloff responded by saying words to the effect of 'she wants to know why you're passing and she's not,' in a loud voice," adding, "'you are never here and you don't do anything in this class.'"
The incident is coming to light now because The B.C. Commissioner of Teacher Regulation has just slapped him with a two week suspension of his teaching certificate. The school district suspended him for 10 weeks last November.
Should this bully even be teaching kids?
Watch, AFTER THE JUMP…