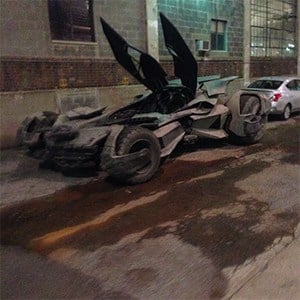 New images of the Batmobile from Zack Snyder's Batman vs. Superman leak.

Director Morten Tyldum talks sexuality and casting, in particular why cast Benedict Cumberbatch to play gay WWII era code-breaker Alan Turing in The Imitation Game and not a gay actor: "So, you mean, a gay actor cannot play a straight man? I actually find that question really ludicrous. I think a person's sexuality is completely irrelevant in how they can perform and how they can act, how they can be. To me, that's not — Benedict is not Alan Turing. He's playing Alan Turing. Alan Turing was a gay man, and him being a gay icon was very important to us. His relationship to Christopher Morcom, who defined his life, was very important to us. And his crucifixion at the end was very important to us. I don't see it helped the movie at all to have a gay actor play a gay man. It would be the same way to say that a gay actor cannot play a straight man. I think it's … yeah. That's all I want to say about that."

Would this devilish (and work unfriendly) statue have you saying, "Satan is my master"?
Funnyman Mel Brooks leaves 6-finger hand-print at Hollywood's Chinese Theatre. 

Sara Gilbert is pregnant. 

Mark Wahlberg is bringing the beefcake to Ted 2. 

Commonly used anti-anxiety drugs could raise risk for Alzheimer's: "The study found that beyond three months on the drug, the longer people took it, the higher their risk for dementia. Additionally, the study indicated that long-acting or extended release forms of the drugs were associated with higher risk for Alzheimer's than shorter acting forms of the same medication."

Chris Pratt to host SNL season opener with Ariana Grande performing as musical guest.

It looks like Alexis Arquette was right.

Sam Smith clears the air on not wanting to be a spokesperson for the gay community: "Of course I want to be a spokesman for the gay community," the 22-year-old clarified. "I want to be a spokesman for everyone. What I meant was I don't want to limit to just one community, I want to reach everyone, gay people, lesbians, transsexuals, straight people, Catholics, anyone. I want my music to hit everyone."

Panic! At The Disco raises $35,000 for HRC.

Did you notice a slowdown in your internet today? #NetNeutrality

Chris Kluwe weighs in on the controversy surrounding the NFL, Ray Rice and that tape: "Of course, I believe, the NFL, and by extension, Roger Goodell, watched that video. The tape never lies; that's the mantra of the League, at every level. The NFL employs many people, who are very good at their jobs, to make sure they have access to that information, to get that tape, and the truly chilling part of all of this, is that the people in charge, almost exclusively men, saw that video and made a conscious decision to do nothing about it until their hand was forced by public opinion."

Did Joan Rivers die because of a "medical mishap"?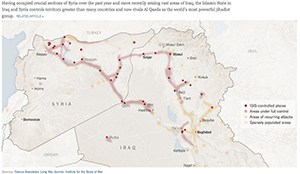 NY Times provides interactive map looking at portions of Iraq and Syria controlled by ISIS.

Speaking of, President Obama will address the nation tonight at 9PM EST.

Florida Governor Rick Scott trying to distance himself from gay marriage debate. 

Shia LaBeouf pleads guilty to disorderly conduct. 

Broadway has its first black Cinderella. 

The wedding of Brian Davidson, the British consul-general to Shanghai, to his American partner stirs controversy: "Many Chinese commentators took to Weibo and other social media websites to attack the couple. One said, 'That country [Britain] is sick. It's like the last days of Rome'. Another said that same-sex marriage is 'not Chinese culture', while others made reference to "mental illness" in their posts or suggested the couple would have children with 'personality issues'. However the majority of the posts online were positive and praised the couple, who met eight years ago, reflecting the fact that China's younger tech-savvy citizens are increasingly accepting of same-sex relations."